We have an
EFL Classroom 2.0 Diigo account
and group. It is a super way to keep track of all the great websites. On our main page is a feed where other teachers collect links which you can view in real time, as they find them/share them..
Well - it gets even better! Diigo now, for a limited time, is offering
FREE Premium Educator accounts.
You can set up all your students with Diigo and they can collect and discuss websites in their own safe/private group. Check it out and get your account today!
This weekend (at the TESOL Korea conference), I'll be giving a lecture on the wide open and very student friendly world of TTS - Text to Speech. There are so many great applications teachers can use to motivate and teach their students!
One of the most outstanding is also the simplest (how true! Simple is beautiful!).
The Tar Heel Reader
has many books for beginning readers. Just click on a category and "read" with pictures. Very accessible and could be used for the whole class, in a language lab or for self-study.
Here are two I made very quickly!
All about Me
Mr. X's Amazing Yesterday.
(if you want, you can use these pictures as a worksheet and students can write their own mini books. See them in our
Lessons in a Can #5
)
Also see
the Halloween ones
- since halloween is approaching!
You can change the voice that reads the book - child/woman/man . Further, you can also by clicking "set up", download the file as a ppt or flash file, for offline use/presentation. I tried but unfortunately, it only downloads the words, not the image or picture files. I'll post more details about this later after I ask about it.
Can you make your own book? Or can your students? Unfortunately, this is a private project created to help literacy and the learning disabled. (and I think there is sooooo much in the learning disabled field that can cross over and help English language learners). Gary, the creator has kindly allowed me a special password to be able to create books. He also said I could let others use the password to create books but only "if serious". So,
YES
, if you are dead serious and want to try it out - message me and I'll send the password/code. Then, you and your students can create your own books! It is sooooo easy to make a book. You will see! No need for photos - you can search Flikr by keyword and use their large variety of public photos. Just add a caption to each photo and BINGO, you have a story!
So members, message me but most of all enjoy this amazing tool with your students.
Jog the Web is a way to visualize and present with commentary - the websites that are important to you and your students. A great way to show students sites and at the same time (through text commentary) explain to them how to use the site and its importance.
It works great, is simple and intuitive (I didn't use the instructions but best to read them!). I did find it a little slow and clumsy in saving some sites. Maybe my computer, don't know.
Here is
my presentation of the Top 10
just reviewed in the last post! I like it as an alternative to Diigo Webslides and you can also see
<>what others have been making!
Here are a few member's "Jog the Webs".
<>Ana Maria
and
<>Larry Ferlazzo.
<>Isabella Jones
I've thought long and hard about this one and will go with this list. There are many others but I think these 10 really "hit the nail on the head" in terms of both teacher's and student's needs. I've given a brief description for each.
Look at
the List
or
the Interactive Presentation.
Here is
Larry Ferlazzo's list
of the 28 best sites for Students. Worth a look. If you haven't visited his blog - do so. Lots of great, recent sites added and you will find his RSS feed if you scroll down and look on the right. Thanks Larry!
I'm asked quite often by message - "How do you download Youtube videos?". Well here is the answer, just go to
www.WeAdd.net
and put in the url address. Follow the steps as outlined below.
Remember, most of the videos found here are also in our A/V player and all these can be downloaded with a simple click of the arrow on the right. Very important for teachers to be able to do this - given that we can't all rely on the internet. So be sure! Thanks
www.WeAdd.net
! Another similar site is
"Keep Vid".

Read the Words
is a site heralding in the first of many "full fledged" text to speech applications. A site you can throw in A LOT of text , select the accent/voice and then get the audio for learning/enjoyment.
Nik Peachy reminded me about this site, I hit upon awhile back. Thanks Nik (he's a member and please visit his blog often and also the post about
Read the Words!)
The site works well. It takes time to get the output/audio but they also send it to your email address. You can embed it with a nice "bot" who will read it on your webpage or for your students. Also, a nice selection of voices + the ability not just to paste in text but also upload a whole document to be audiofied (how's that for a new word -- hopefully it will make the OED!).
I had trouble getting them to play with the avatar - hopefully this wrinkle will be solved. But you can download the mp3 so here is my example: I chose a real test - the lengthy Obama acceptance speech! Check it out.
Text Here!
Larry Ferlazzo on his blog has listed the top 27 websites for English Language learners in 2008. A great list and Mingoville, which I've championed here and linked so often, has been nominated number one.
Go there to vote
but here is
a nice diigo display
of the choices that I created over coffee break!
Let us know what you like/think.
Click N Learn
is a great site! Multi level and much like Mingoville but a lot more attentive to grammar and higher levels. A great site to self -learn or even for full classroom instruction.
Click on the "menu" when you click on the egg and then go to any of 5 levels which appear in the upper left corner. Lots of activities to choose from and though more could have audio, there are still some good ones with audio also. I especially love the topics for the higher levels and these in particular could be used in the classroom to prompt discussion. A big THANK YOU to this site for offering good quality, FREE learning. A really great example of the internet opening up opportunities for learners to learn....Check it out!
I have commented previously about how much I like the priority Google is giving their Text to Speech division. Especially
igoogle.
They really "get it" and what the world of ELLs need. In this vein, their very "beta" attempt at creating automated text script from video is worth investigating.
The Election Gadget
allows you to watch McCain and Obama speeches and search them for specific content/words. Say you want to know what they say about "oil". Type in Oil and then you will see arrows where this appears in their speech video. Click on these arrows and listen and READ the speech.
Pretty cool. I tried the word "love" and it was hilarious to compare. Try yourself.....
My own books
is a fantastic site for fostering reading skills and thus, English language acquisition. It was created by Anne Pemberton, a retired Special Ed. teacher and she has done a marvelous job.
Students simply chose a story they want to read. Then, they put in their own name and BINGO! The story is all about them! You can print or read on the screen with pictures to support comprehension. Really cool and I suggest students print these out and share their stories. A great way to create a classroom , personalized library!
Also see her
Alphabet stories
which review all kinds of essential vocabulary.
Wordle
is a web 2.0 application that quickly makes Word Art or what is now termed, Word Clouds. You just put in the text or the website RSS feed url. I made the above from the feed from our forum!
What's amazing is that you can store the resulting images. You can change the color and layout. For example, have the words displayed alphabetically or all in a row or half and half (vertical / horizontal) like above. Also, change the word count from 0-150 words / page (this one has 45 words).
Further, print the product and it is ready to use in class! A wonderful way to attack an article or your coursebook text. Plop it into Wordle - print and the students have a handy handout/picture of the essential vocabulary. As with anything -- get them making their own wordles!!! Try this -- you'll find it is super cool!
Also by coincidence came across another of these -
Tag Crowd
. In its Alpha but it works well. Only gives one generic type, not as versatile but still gives you the frequency in size and number -- which I like.
Tutpup
is a new game site which just does things "simply"! I love simple (like Thoreau) and I applaud the very basic nature of this site.
What is it? Well, students compete from other countries (I was playing level 4 against someone from China - I won! Yeah, I'm a native speaker, go figure!). Students compete to spell words quicker than others. So yeah, typing skills count but it has audio and is great just for listening skills. Choose between 5 levels. Your students will love the competitive aspect to it. I've sent the creator some suggestions about more audio / picture games. It would be great to have a game where students compete by clicking pictures after hearing a sentence. Awesome idea for EFL / ESL / ELL students....but try this , it is great. Find under the PLAY tab above.
Also, sign in through EFL classroom and our generic ID/PW eflclassroom@mail.com / eflclassroom Our "code" is "eflclassroom" and teachers get a code when they sign up which their students can use. Our display name is - Black Panda 33. When students use the code, they join that group for competition! So let's sign up under EFL Classroom and get competing!
Teachers and students love books! So
here is a place to browse for many books
, FREE, in the public domain. Lots to see and even many ebooks which are great for student learning. Many can even be downloaded onto cellphones or ipods! Take a look and I've put this under our BOOKSTORE tab.
Further, I'll be making an announcement shortly but I've been busy with hours of selecting great English teaching books for
our Bookstore
. By purchasing there (when you can't find it free or just want to buy it!) you help our community and the more we buy here, the more discounts we will get! Fully secure / safe checkout through Amazon.....More on this later.
Listen and Write
is a new site. A great idea for online dictation and to help listening skills. BUT it really has some shortcomings, most of all being user friendly. I tried creating this
Twinkle Twinkle little star dictation
and it took forever! The demo was no help either and it really isn't intuitive at all....I think they need to think the process out better and I'll be sending them an email.
That said, it is good for even just listening to audio and VOA English has put up many of their news stories which you can hear and read....so that isn't so bad. But if you are interested in this sort of thing, check it out. As for dictation, I much prefer the Spell It (click under Learn)....much better...
Mingoville
is pure gold! Please try it out and just use as always, our shared ID/PW
ID-eflclassroom@gmail.com
PW- eflclassroom
As so often is the case - I got this off of
Larry Ferlazzo's blog!
He really found gold! I can really say with confidence this is what we've all been waiting for - in terms of a FREE, online learning environment for young learners. On
Mingoville
, learners do series of activities, all very colorful and interesting -- using flamingos as characters! Very fun and they complete "missions" (hit the mission button for the content) which go into their mission book. A great dictionary with audio, as well as lots of amazing flash cards in downloadable .pdf complete the deal!
I say it is so good
a) because of the basic topics and creative use of color/character
b) functionality is awesome, intuitive -- just hit NEXT when you hear the little clack
c) audio included
d) goal/task oriented where students complete missions which show up in their book
The only thing missing is networking/discussion but I really see this as a separate feature for more mature learners.....Try it out with our ID/PW -- let us know how amazed you are - I know you will be...
Sketchcast
is a brilliant idea! It is a chalkboard which you can "sketch" on and also record audio with (if you want). Save it and then share it with an embed code or by email. Brilliant for bringing the chalkboard into the 21st century and it is much like Voicethread - an application I've championed but doesn't allow audio comments. So it is better for basic tutorials, "how to" stuff.
Here is one I made in literally 5 min! Teaches you how to play Tic-Tac-Toe in the EFL / ESL classroom. This game can be adapted into all kinds of forms (opposites, make sentences, associated words, homonyms etc.... Students make their own tic-tac-toe and then start playing or you the teacher can make one up in advance.
Also see this tutorial on how to use Sketchcast and Get Sketchcasting! Make sure to share here, please....
Click here
to listen to all the posts in Text to Speech!
ODIOGO
is a simple, free way to get text to speech or (voice) to your website! Check out
my own blog
which I've now Odiogoed!
Here's my own odiogo podcast list!
Even if you don't have a blog, get it started and just put any text into your blog that you want read -- for yourself or students!
So how do you do it? Easy and that's the nice thing about it.
1. Get your RSS feed address by clicking the little orange rss box usually at the bottom of your page. If an address doesn't come up, right click and get "properties", this will show the address, ending usually in rss or xml.
2. Go to
www.odiogo.com
and enter the rss and also your email address. DONE!
Within twenty four hours you will have a page with all feeds listed
like I have
above.
3. But you aren't REALLY done yet. Last, you have to put the little player on your page, so others can listen as they read or just plain listen. It's easy. I prefer the
yahoo easylistener player
, the same one that runs our own jukebox that I'm still refining (to listen to all our music across this network). Get the player and select BAR from the player types. Enter the mp3 address which you get by right clicking the audio file in your odiogo list . Copy and then paste into your webpage/blog wherever! Even email it!
Bloggers here, I hope you read this and get your blogs Odiogoed! I'll be sending you a personal email and I hope to keep getting the blogs better advertised. I think of blogs as the brains of this organism (Forums are the mouth!) and we need ya! All new bloggers -- get started and help us build a better EFL universe. And add Odiogo too.....
Yolango
is a new site offering video/subtitles / and very interactive post watching quizzes/acitivites. It is meant for individual learners and features very topical, fresh and hip videos. They range from videos to talk shows, interviews, movie clips, nature programs.......
I did some consulting for this site and it really has my ethos and spirit in mind. Individualized learning and text support for multi modal learning. Learners can get points for the videos/acitivities completed (try the Cable Guy scene!) and compare against other learners. Videos come in 3 standard levels and users can rate and post comments.
Try it out and I think you'll find lots that really enhances learning. Yolango promises more big changes in the future and I'm doing my best to support what I know is a very enthusiastic, forward looking project. Let us know what you think and get Yolangoing!
This new Sketching site is fantastic.
Odopod
does it all and there you can make beautiful sketches, save your sketch and scroll through zillions of other sketches (and play Guess the Sketch with your students!). The userability is phenomenal and this could become a very versatile teaching tool.
I'm planning on using it at a series of foreign lectures I'm doing. Where I can't use a small whiteboard because of the auditorium and need something insynch with the big screen. Enjoy this great tool and all the imaginative ways of using it!
I am a big fan of TTS - Text to speech. It is this, more than TV, radio, podcasts etc....that will and does make a difference to English language learners. It is simply providing audio and pictures along with text. Multimodal and great whole language learning. Unfortunately, other than EFL Classroom, there isn't a lot out there.
While now, there is a news channel. IHT (International Herald Tribune) has begun offering
Audionews
. Loads of articles supported by audio. Read AND listen. Awesome collection and the number is enough to make it so there will be something for everyone. I've begun doing a few in karaoke and look for them in the NEWS part of our
Karaoke page.
Just a short registration or start immediately with our ID/pw - eflclassroom
Ether
is a new business model run by AT&T. I'm usually distrustful of these megaliths but this seems to offer a great way for teachers to make some money and also help students worldwide.
The idea is simple. Sign up and you go into a directory as an Ether member. You get a button to publish on your website and anyone can hit the button and talk to you on your home phone, cell phone. Who pays? Well, the user pays but you set the price. You can see my button on
my page
I set the price at zero, so anyone can talk to me for FREE! Actually, they don't allow you to set a FREE price but you can set .01 cent/minute with the caveat that the price doesn't start until you -- on your phone hit the * key. So really, anyone can call for free!
They make their money by taking 15% of the fee paid by the callee. This could be an interesting model for teachers to start phone teaching and the system is reliable -- you do get paid!
See this Ning site
set up to offer teachers just such exposure.
Fact Monster
has loads of great info. and especially about countries and biographies of people. Lots here for students to use to prepare short presentations and learn through task based learning and cooperatively. Take a look and I think this should be on an teachers list of reference sites....really interactive with quizzes too, really easy to jump around in. A Gem!
Howcast is an amazingly fluid video "how to" site. Like Expert Village (previously reviewed here), it offers loads of videos giving advice and information on "how to" do something. There are nice categories to click on the left. The videos stream smoothly and for inclass use, there is an excellent big screen function.
How to, is a great sequencing way for students to watch and then communicate with each other. Simply ask them to sequence the advice/steps and then replay without the sound and ask them in pairs to communicate the steps to a partner.....lots of fun.
Here is a video which could be simply used in class, from Howcast. How to make a Moquito -- a famous Cuban mixed drink.

I also love this video about Parenting advice from Britney!from the Daily Idea series there.




Tikatok is a wonderful Web 2.0 book creation and sharing site. Students and teachers can upload pictures, input text and create beautiful flip style books. Lots of great finds in their library and though they are still in "beta" phase, I expect this to be a great tool for teachers. I'm going to upload many of the dozens of past books I have in ppt (student made) for sharing. Take a look at a great introduction here.You can playlist favourites, share and I especially like their "recommend" list. Great web 2.0 stuff!

I got an email from the creator and they are working hard to add a "voice" component to the books, so authors can read their books. This will make them that much more friendly for English language students. Take a look and follow the Tikatok motto - Imagine a story, Create a book. Here is a nice example....


Yak It To Me is the text to speech site we've all been waiting for! Many here will know my own enthusiasm for TTS (text to speech) and its ability to foster, prime, pump, kick start a lot of language acquisition. It is a great way to have multi modal learning.
Yak it To Me is simple. Simply upload or paste your text and then get a nice mp3 of it being read. Choose the voice (there are several ATandT voices, the industry standard so it is good stuff!). Also you can choose the reading speed. Send the students here to create voice files of their stories, their own homework, their readings.....the list is endless. Try it out, you'll be surprised by its smooth functionality. Here's the "I have a dream" speech read and also our EFL classroom 2.0 welcome message.

You can do a lot here. They are converting to voice, many of the Gutenberg project books and the public library is growing. You can also download directly to itunes and your ipod. Put all your books into voice! There is also a handy link to Babelfish, a premiere translator , so you can also translate the text.

A big thanks to the "radar" of ELL on the web, Larry Ferlazzo for this! He's been on a frenzy and please visit his blog of recommended sites. Click on the button on the right. One more great site found through Larry tomorrow!


Today I have two sites which offer lots of inspiration for choosing a song to use and compliment your lessons. Music is a great "consolidating" activity or also a great "warm up" for some particular type of focus (vocabulary / theme / target language/phrase).

The first site offers many blank cloze type songs and also offers advice on how they compliment English lessons. It's called "Music English Lessons". A very low key site but with a good focus on using songs. I made this cloze of My Way in just a second. I copied and then pasted to word and then saved.

The second site is a good list with explanations on how to use the songs. I think his list of songs is BANG on. So many good ones and I was inspired to make the Nora Jones , Come Away with Me karaoke based on his recommendation. Take a look at this list! And then do it YOUR Way!





TEFL Daddyis a site that offers loads of very "sage" advice for those starting to teach English. Also a great prof. development primer for those who've been teaching a bit.

It is a little dated but still as relevant as ever. Created by a teacher trainer - you get the straight goods and this is as good as it gets for FREE! You can scroll through the topics -- Here are just a few of the first topics:

Before you go:
Make a Decision and Find a Good TEFL Job
1. Learn about teaching English overseas
2. Make an informed decision about going
3. Know where and how to get started
4. Find your first EFL teaching job
5. Accept your first job - what to know first

Lots more! Check it out and the odds of you being a content EFL / ESL teacher will greatly improve.




I've been catching up and looking over so many sites the last few days! I'd like to share this really fun site, Bombay TV where you can put the subtitles on to Bollywood classic scenes. It is hilarious. See my sample. I found this through Larry's blog -- see the RSS feed and links when you scroll down, on the right. Thanks Larry this was so much fun. I "busted a gut"! I added this keeper to our Games page!

This would be a great Web 2.0 writing exercise. And the site is super fluid/functional which makes the experience seamless.....Check it out!






Edochan, (3 Wise Monkeys) , a Japanese site, has some great teaching ideas. You have to take your time to go through them but their lesson ideas and activities are really teacher friendly. Here is a nice game, 3Ws. You'll get a wealth of useable ideas for games and lessons......As the promotional part of the site says,
Three Wise Monkeys, a collection of teaching ideas compiled by Japan Exchange Teachers in Tochigi Prefecture.
Over 100 activities indexed by level, grammar point, time taken and materials used.
Presented in the kind of 90's internet retro style that will soon be coming into fashion again.



43 Things is the kind of site that I call a "home work" site. A place that you can send students for whole language practice BUT with the intention that they bring something back to class for a classroom language activity.

43 Things is where you can make "lists" of how you want to improve your life. You can hit some popular tags and follow what other people have listed to get inspired. You can view other lists/goals and cheer them on! A pretty decent concept and worth looking at . The vocab. is very simple for students and they could make their own lists, print and then bring in to class to share/make conversation in pairs and/or make posters. Use the target language.....This year I'd like to ............

Good luck with your goals and I hope for students, top of the list is "improve my English"!


I really think the future of online language learning is with the perfection of voice recognition technology. One step along this road is the use of speaking bots. While Honest Johnny isn't a real bot (like our Dave - click our BOT tab), he/she is fun and really user friendly.

Created by oddcast, the same one's bringing voki -- create and personalize your own talking figure. I like how quick the flash works and it is really kept simple and functional. Most importantly, the voice is really an improvement and is a great example of TTS (text to speech) functionality. Try it and get your students to do so. I've put it in our conversation section of the Practice area. Here is one I created in minutes only....






Metrolyrics is a site that is handy for lyrics. Literally tens of thousands of them and what is unique is that you can embed them with the song/video and so instantly, quickly listen with text. Your students can use it for study and it will help them with their reading ability.....a great way to motivate students to do some reading! Try it. I've put up an example of Marvin Gaye's "What's going on" in our videos....


Common Craft is an excellent site in which to get up to speed and learn all the basic "tech" stuff. Ever wonder what a "Wiki" is? What about RSS? Or how to embed a video on a site? What is social networking and what can you do with it? How about "twitter" , blogs, online photos?

Lee Lefever makes excellent videos explaining these and more (like the How to avoid Zombies video in our player -- it is hilarious!). Go to his Youtube Channel for a great assortment of videos that will both stimulate, delight and make you a better teacher and online user.....

PS. They also have a Facebook community and a Blip TV show.....Further, you can get them in other languages at Dotsub.


Language Guide offers basic vocabulary practice for both teachers to use in the class but more fittingly, for students to get extra practice with. Each vocab. item is presented in numerous languages and students can listen to the pronounciation of each word/item using Windows media player. Pretty basic stuff but rather handy for language learners. Take a look!


In keeping with the recent vein of sites I've mentioned using TTS (text to speech) recognition, I'll mention a couple of other ones. Please see our mediafire software folder for additional voices of a higher quality and other TTS applications (like Deskbot).
Balabolka means "chatterer" in Russian. It is a really simple TTS application. Simply paste in the text and it will be read. I've uploaded our EFL Classroom 2.0 welcome message read by Microsoft Mary (as mentioned get much higher quality voices in our software folder! these voices are just the most basic and primitive ones available). You simply download and it is ready to use. Students can read a whole book or a passage. Voice can be set at a comfortable speed. In brief, Balabolka is a simple way for students to encounter text in a multi modal fashion -- with voice and learning to make solid script to sound connections.

Another application in the same vein is Say Pad.(scroll down to find the download link) It will read at many different speeds and "breaths". It is an example of technology for the visually impaired that is absolutely adaptable for ELL (English language learners). Try these applications and more that I'll be mentioning in the coming days. Students should be alerted to them and they are the perfect tool for their study at home. Students can write / type and at the same time hear it being read by the computer. Very motivating.

Even more exciting is the field of voice to text. Students can simply speak and see the computer write out their sentences. Magic! I'll be posting up some applications shortly on this new technology that is now becoming free / cheap enough, for the average Joe (ie. student).

TRY out Speaking Notepad from Qwerty Studios.(scroll down for the download link) It is a demo but really has almost all the features of the regular version. Dynamic and if you load up the voices I've provided in our Media Fire software folder, you will get really authentic sounding speech. It acts like a regular word document which it then reads the text from. Just a quick download. Compare the two mp3 Welcome messages I've attached below.

Voycabulary is a real simple concept. Type in a website address or some text and then see that text hyperlinked with reference to any dictionary or vocabulary "explaining" tool you choose. So just put the text on the left - choose the dictionary on the right and then PROCEED. Simple as that. So you can pump in http://eflclassroom.ning.com and know any and every single word - just translate it quickly into your own language.

See a good training video and explanation in this screencast.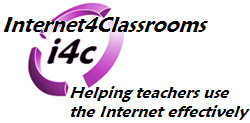 This site, Internet 4 Classrooms is a portal site with all sorts of teacher friendly goodies. From links you can directly use in your classroom to assessment tools - this site has some dandy tools for the classroom/internet teacher. The part I like best and think the most useful to fellow teachers is the "module" section. Here, you can get training and all your questions answered about using such necessary applications as "word" , "powerpoint", "excel" etc.....VERY HANDY indeed.

Webware is currently having a vote on the top 100 Web 2.0 applications/tools. Go here to vote. What didn't make the list? A good summary? I find it a very handy reference for surfing through all the new applications in any category (and there are a LOT of categories!). My only clear winner/vote goes to Voicethread of course......but take your pick and get voting. Over a million people (computers?) have done so, so far.



Today's site is slim but powerful. Just a whole lot of GRAPHIC ORGANIZERS. brought to you by Houghton Mifflin

No big deal? Well, I think they are a bigger deal and I've turned to this site time and time again. Graphic organizers are sooooo handy for a teacher. Multi level, promoting higher level thinking skills, great for focusing on presentations and an outcome for any content. They are something that even the newest of teachers have to get into their repetoire of tricks quickly.

Find some other graphic organizers here. Also, here are many writing organizers that will come in handy. Get busy getting your students organizing, it'll make your teaching life that much more "organized".


The first "Site of the Day" Thread is just tooooo BIG! So please follow along here and for reference check it out HERE.



Placespottinghas been discussed previously on the discussion thread we had about teaching Geography. Thanks to Vincent for the mentioning of it and it is worth telling others about again here! Visit Placespotting for many more searches, it is addictive! Great way for a teacher to introduce students to famous places.

Teachers can make a quiz and students use Google Earth to find "where in the world it is". I've done one and so please reply back when you've found it! Can you find this place?
My placespotting.com riddle


Quizlet like for one important reason -- it shows the initiative and drive of youth. Quizlet is run and designed by a high school student! Yes, it started it based on his own need to study his French words in high school. And now look at what we have!

Teachers, students can go and practice. I've set up an EFL Classroom account and I'd like members to go there and create a quizlet. That way we can all pool our resources and as it is public, our students can go there easily too. ID eflclassroom PW eflclassroom

You can practice guessing the words/definitions by either creating a set or using the sets of thers. You can easily print out flash/matching cards. What I really like is that you can play scatter with the words. A game where you drag the definition and word together and see it disappear. Clear the page and you win!

I've set up examples of the above so you can preview. Our first quizlet is The Top 25 EFL Acronyms. Do you know them all! Here is the printout sheet. Here is the scatter game. Enjoy and get making a quizlet for us today! PS. I've emailed them and asked that they start including pictures for practice.