Elias Hickman has contributed so many resources! He's a GEPIK teacher in Korea with A LOT of creativity. See his most recent contributions and thank him!
Valuable Links
Great Blog and Forum Posts!
Karenne Sylvester wants to know if you have a blog or have any ideas about forming a community of bloggers?
Charles asks about using cell phones in the language classroom.
Got any tips for teaching/deliverying grammar lessons?
---------------------------
Make sure to see all the best blogs and sites for teaching through the Edublog Awards
I'm reformed and won't be competing in any capacity - don't think that we should follow a competitive model of "anything" in education. How'd you feel if they gave a "BEST Teacher" award at your own school and then asked teachers to fight over who should get it? Still, many great sites and I heartily recommend you check out as many nominees as possible.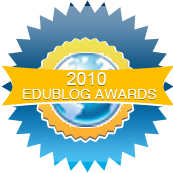 <>
On the horizon? Well in a nutshell - everything!
My old teacher training site - Seti Teachers is now back! It is now the School of TEFL

Full to the brim with teacher training resources and I'll be offering a fully accredited TEFL Certificate course (concentration in Educational Technology in the new year. Stay tuned and I'm building it over the holidays and this year off of teaching. Something I've always wanted to do - give teachers quality and "real" online training. You can help by letting others know and even offering an affiliate badge when it becomes available (you'll get $$$ for those who sign up).
The new video conference rooms are right on the horizon! Low cost - $20/month or $150 a year. Rivalling at a fraction of the cost, anything offered by the big guns like Elluminate or Adobe!
<>
English Central marches on!
We at EFL Classroom 2.0 have helped immensely in the development of English Central. Sign up as a teacher and get your students practicing! You can track them, recommend content for them and more .....
-------------------------------------------------------------------------------------------
Have you tried all the great FREE tutorials on ELT and Tech?
----------------------------------------------------------------------------------------
Teach - Learn will be my next resource to help teachers!
I'm busy writing, formating, typesetting etc.... (it's a loooong haul). However, this textbook will be revolutionary. Multi level and based on my own teaching methodology of SCC or "Student Created Conten" Stay tuned for this in the new year too!
Resource of the Month
Top Blog Posts of 2010
GOT A QUESTION ABOUT HOW TO DO SOMETHING ON EFL CLASSROOM 2.0?
Video of the Month!
Without a doubt, a classic. Get worksheets and pptsfor teaching this amazing film! Also, many more X-mas videos on EFL Classroom 2.0!